Chrome Collective given JLR Classic Works treatment
Members of the Chrome Collective were given the chance to attend a private viewing of Jaguar Land Rover's Classic Works facility in October, open only to those private clients of Footman James.
The incredible behind-the-scenes tour of the impressive facility gave attendees the chance to see the on-going restoration work of both customer models and Jaguar Land Rover's own classic collection, as well as the opportunity to view the historic collection itself.
Located in Jaguar's historic home of Coventry, the Jaguar Land Rover Classic Works site is a 14,000m2 state-of-the-art facility, housing both brands' classic operations in one place. Largely divided in two, the facility has 54 individual workshop bays to work on any Jaguar or Land Rover model, staffed by experts who are able to repair and maintain any Jaguar Land Rover classic vehicle with genuine parts.
Working on client models or the ever-evolving collection of classic Jaguar and Land Rover models, the workshop looks more like a motorsport facility than the traditional idea of a classic car garage, with everything pristine (or as pristine as it can be considering the number of classic oily parts that head into the space), and a large, light space for the mechanics to work their magic.
Adjacent to the workshop is the warehouse, housing Jaguar Land Rover's collection of classic vehicles. This is no museum, and instead the cars work for their existence. That may be Jaguar requiring a historic XK 120 with racing pedigree to run a 'factory' effort in the Mille Miglia, to rolling-out a much more modern Project 8 super-saloon at meets such as Goodwood.
The breadth of vehicles stacked two-high in the facility is astonishing, though considering the two very different focuses of each marque, it is perhaps unsurprising to see classic Land Rovers and Range Rovers facing Jaguar E-Types and XK-S'.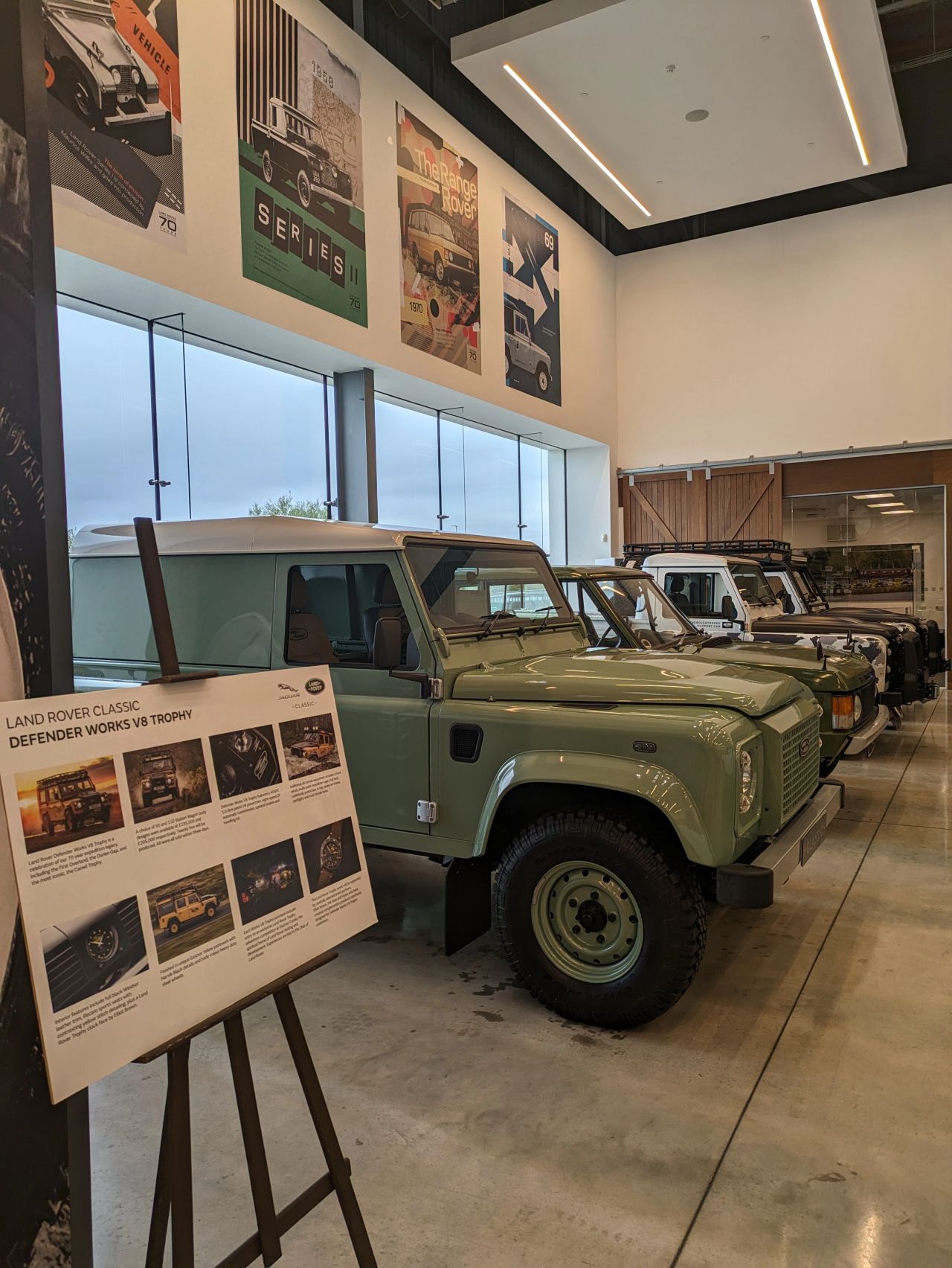 Just to be able to take a look around JLR's Classic Works facility is rare enough, but Footman James' Chrome Collective were also treated to a fascinating Q&A session with Dominic Hamilton, grandson of Duncan Hamilton, who famously won the Le Mans 24 Hours race in 1953 with Jaguar, driving with team-mate Tony Rolt in a works C-Type.
Footman James Private Clients automatically become members of our Chrome Collective club which provides them with access to exclusive, and complimentary, experiences just like this one!
One attendee said: "Can you please pass my thanks on to the FJ team for the invitation, and their courtesy extended to Joseph and I last week. It was both interesting and enjoyable and I met a former client who I'd not seen for over 15 years... small world eh?!"
The Chrome Collective is an exclusive club for Private Clients of Footman James which offers access to luxury events, VIP hospitality and more. Club members in the past have enjoyed unsilenced driving at Thruxton, taken part in tailored driving tours, and discussed all things motoring with admired industry insiders. To find out more about our Private Client click here.