Coffee & Chrome Back For 2023 At Impney Estate
Footman James was delighted to welcome back a variety of different classic vehicles and enthusiasts to Impney Estate, in what was a fantastic turnout for our first Coffee & Chrome meet of 2023.
Colder January temperatures weren't enough to spoil the fun, with hundreds of owners enticed by the winning combination of classics, coffee, free breakfast rolls and the stunning backdrop of the Chateau and Impney Estate. All Coffee & Chrome visitors made an entrance, piquing the interest of petrolheads of all ages.
January's Coffee & Chrome was also a chance to catch up over a coffee and meet new people in what is normally the quietest period in the show calendar. Footman James caught up with several owners on the day and found out what makes their classic so special to them. Here's a small selection of who we spoke to…
Gary Parsons - 1978 Austin Mini Clubman Estate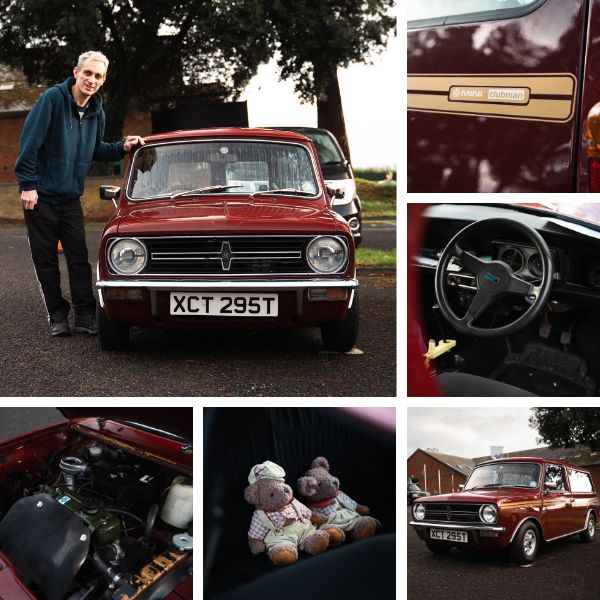 Gary Parsons has owned 'Norman', his affectionately named Mini Clubman Estate, for the last eight years. During that time, Gary repaired Norman's rusty doors and floors, finishing it off with a respray in its original colour - an oh-so-seventies shade of 'Russet Brown'. Norman is powered by the lesser-seen 1098cc A-series engine, with Gary commenting that the larger Clubman front-end allows him more space to work in the engine bay.
"I bought it in fairly good condition, or so I thought," Gary told us. "But I discovered it was suffering from rot in the usual areas that affect Minis. I have it the way I want it now and can't see myself parting with it yet; how often do you see Clubman Estates?"
Gary is a fan of all Minis, but he has a particular interest in saving the less common variants. Included in his collection are examples of the short-lived Wolseley Hornet and Riley Elf - models that were Mini-based but with an extended boot lid, which added 8.5-inches to their overall length.
Paul & Harry Willetts - 1993 Nissan 300ZX Turbo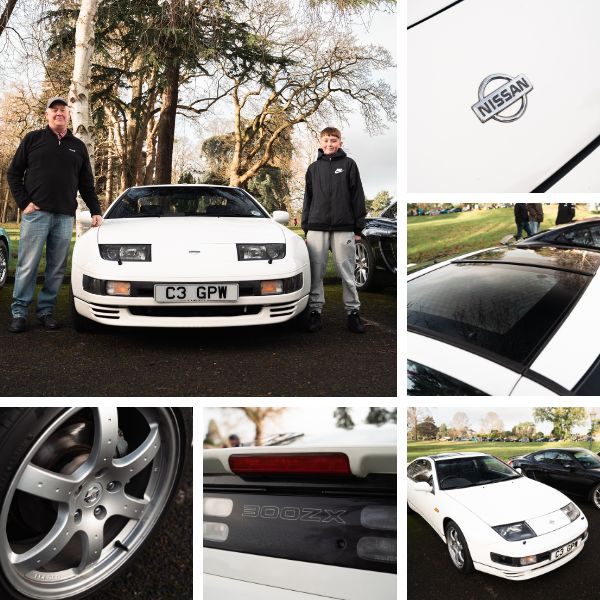 Owner Paul Willets and grandson Harry arrived in an extremely well-loved example of the Nissan 300ZX twin-turbo, which Paul has owned for over 22 years. It's a rare UK-spec car, equipped with an equally rare manual gearbox, and has only covered 45,000 miles from new.
Paul said: "I use the car on nice days and for car shows. The car is all original, apart from the fitment of newer 350Z wheels. That has enabled me to keep the original and now rare-to-source alloy wheels in excellent condition. In return for keeping on top of the maintenance, I get to run a classic that's been cheap to own for many years."
It's a star of the small screen too – back in 2003, Paul's 300 ZX featured in a 'generation game' on BBC's Top Gear, which saw it compete in a drag race with the contemporary Nissan 350Z. We won't reveal which car won, but it's fair to say Paul wasn't unhappy with the result…
David Large - 1928 Delage DR70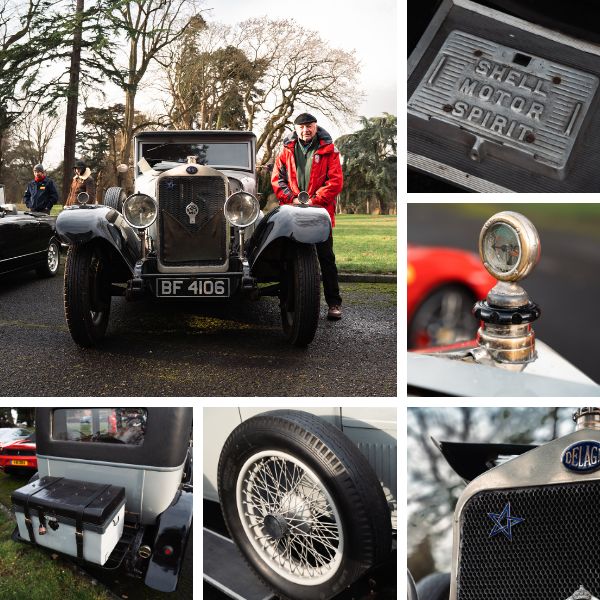 The eagle-eyed among you may have already noticed a similarity in owner David Large's name and that of the pre-war car he arrived in, which he has owned for two years.
"Funnily enough, I'm not a long lost relative of Louis Delâge, the company's French founder," David said. "The name similarity is partly the reason why I bought it. People appreciate my sense of humour, and it's always a conversation starter at shows which raises a smile."
David's 2.5-litre, straight-six, side valve DR70 has an interesting history. The original owners were two brothers from New Zealand, who travelled to the Paris Motor Show to purchase it. Delage sold it to them a motorised chassis, meaning that it had everything minus the bodywork, which was common at that time. When the motorised chassis arrived in New Zealand, a coachbuilder was given the task of constructing the bodywork, designed to meet the two brother's requirements.
Despite being 95 years old, David isn't afraid to use the car as it was originally intended. He added: "Despite its age, my Delage doesn't drive that differently to a modern car. I drive it an average of 1,500 miles per year and I've even driven it to the Isle of White with the Delage Register. I believe that all cars should be driven as they were originally intended and mine will cruise comfortably at 50 mph all day long."
David appreciates all eras of classics and besides his cherished pre-war Delage he also owns an AC Cobra 289 replica and a '90s Porsche 968, which have both attended previous Coffee & Chrome meets.
Darren & James Galloway - 1999 Porsche 911 (996) Carrera 4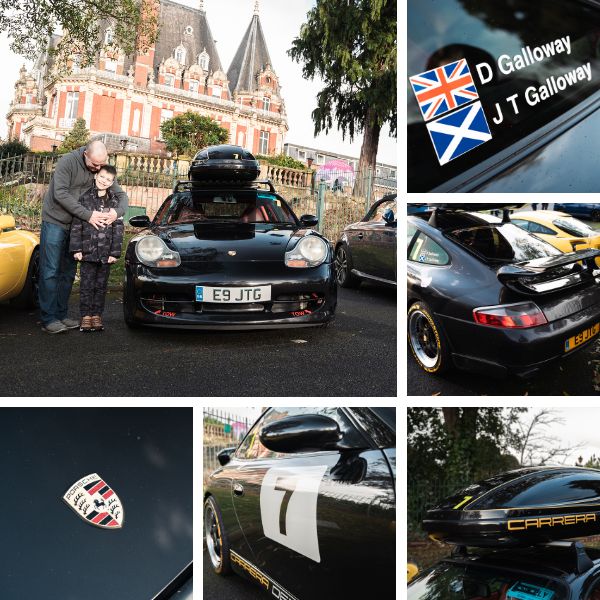 Owner Darren Galloway and his son James arrived in an eye-catching, roof box-equipped example of the first water-cooled Porsche 911, which has been owned for seven years.
Darren's 996 Carrera 4 is his main car and is even used in his work as a detailer – hence the all-important addition on the roof. After buying the car 'blind' from its previous owner in Scotland, he went through the car mechanically. His 'hands on' approach to DIY mechanics allows him to maintain it himself, whether a small service or an engine rebuild, at relatively little expense. Since purchasing, he's covered 60,000 of the current 135,000 miles on the clock.
Darren said: "Being an earlier 996, it has a dual row IMS bearing, making it an easier example to own. That allows me to concentrate on enjoying the car properly as was originally intended. I've taken the car on several long trips to the Alps, down to Monaco and around Scotland."
Darren has made tasteful modifications to personalise the 996 to his tastes, including the addition of the roll-cage and those distinctive alloy wheels. But his automotive interest isn't just limited to Porsches - he's previously owned a Lotus Esprit, and currently owns a Triumph TR7 and a first-generation Mercedes SLK.
Alan Williams - 1967 Ford Mustang Fastback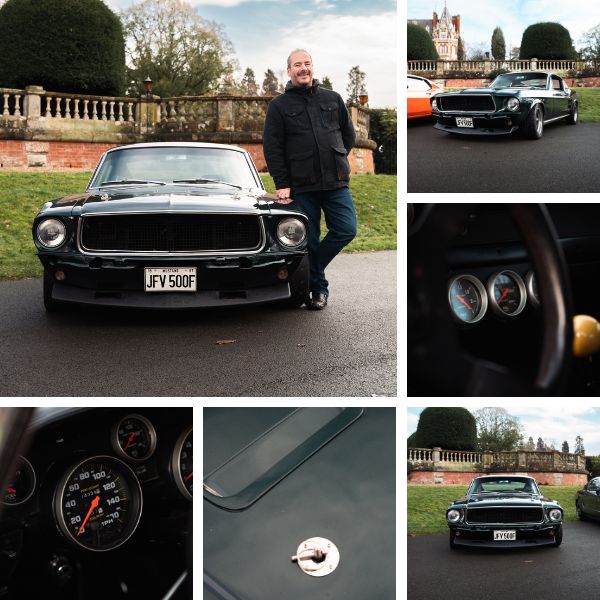 Alan Williams is yet another long-term classic car owner we spoke to, having had his cherished 1967 Ford Mustang Fastback for 28 years and counting.
Alan believes that every '67 or '68 Mustang Fastback must wear that famous shade of Highland Green, paying homage to Steve McQueen's iconic car chase in the 1968 cult classic Bullitt. It just so happens that his example was that colour originally, and he certainly has no plans to change it.
Alan said: "I've made it my own car; I've lowered and tweaked it, and now it's part of the family. It's not just used for shows, I take it on long journeys and on track days to Mallory Park and Donnington and cover an average of 1,500 miles a year in it. The running costs are generally affordable and there's an excellent parts network."
Like many of us, Alan's love of cars was passed down to him by his dad, with a tendency to prefer Americana. His purchase of the Mustang Fastback back in 1995 also led to the purchase of a 1967 Ford F100 pick-up and a 1968 Ford Maverick… and he also co-owns two more cars with a friend. Once classic is never enough, right?
Paul & Byron Medhurst - 1981 Triumph TR7 Convertible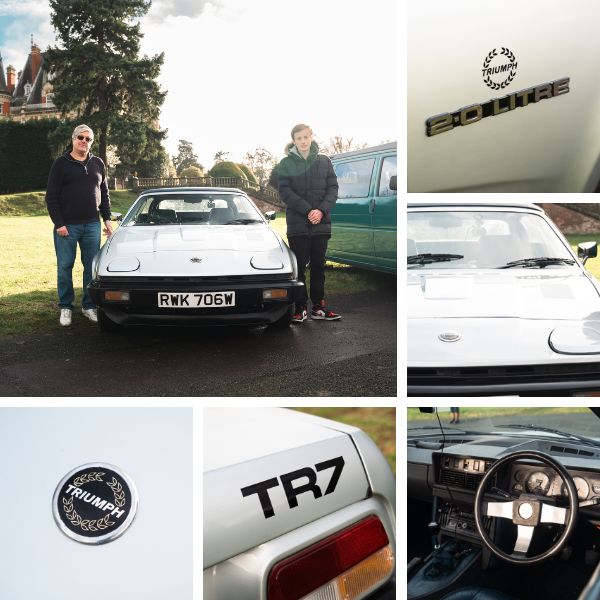 Two more attendees flying the British flag were owner Paul Medhurst and grandson Byron, who arrived in a spotless example of one of the last Triumph TR7 convertibles built - owned for the last 17 years. 
Paul said: "I love polishing my TR7, but much of the credit for its current condition must be given to its previous owner who restored it in 1995. Such a good job was done of the paintjob that it has led to my TR7 still picking up Concours prizes at events, despite it featuring non-original Renault Iceberg Silver paintwork."
Paul added a stainless-steel exhaust and TR7 alloy wheels to replace the original steel items and visits up to 13 events a year with the Triumph TR Register. Paul has no complaints about the running costs and reliability. Despite the TR7 usually being garaged over the winter, the pair made a special exception to bring it out for our Coffee & Chrome meet – thank you Paul and Byron!
Next up, we're heading to Gloucestershire. Our next Coffee & Chrome meet will take place at Prescott Hill Climb on April 30th which sold out in record time!