FJ Coffee & Chrome Prescott: Sunday 17th September show report
Coffee & Chrome returned to the impressive grounds of Prescott for its latest meet, the iconic motorsport venue providing the perfect backdrop for another successful event.
As ever, there was a huge variety of vehicles in attendance, spanning everything from the last remaining Model A ambulance through to a backdated Porsche 911, and from an original 'Frogeye' Sprite to a rear-engined Mini Metro.
Out of the 100s of cars on display, we caught up with several owners to get the full story on what makes their car so special.
Ford Anglia 105E - Tracey Davis
With its super-straight bodywork resplendent in Porsche Aubergine, the subtly modified Ford Anglia of Tracey Davis is far removed from when she dragged it out of a scrapyard 35 years ago. In the time since she bought the then engine-less 1965 Deluxe version, it's served as daily-driven family car for 20 years and has undergone numerous upgrades. Tracey swapped the front end after preferring the narrower grille of the 'standard' model, with the current specification also including a mildly-tuned 1.6-litre Crossflow engine, a Milton steering rack conversion, Mk2 Cortina front struts and Lotus Cortina steel wheels.
"I only paid £25 for it, but it's cost a fair few more pounds since," laughed Tracey, who regularly covers 100s of miles attending summer shows and tours with the Anglia. "It's my baby and I just love everything about it."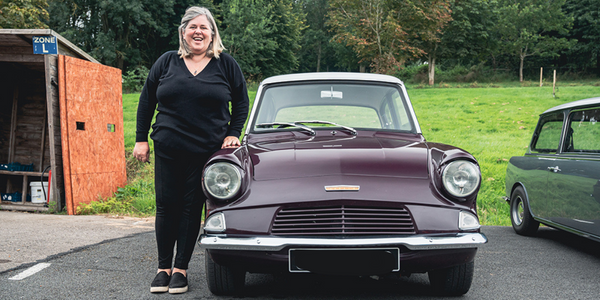 Classic of the Meet: Peugeot 106 S1 Rallye - Nick Charles
Having already raced a Peugeot 106 GTi and "wanting one for ages", Neil Charles found his 1995 Peugeot 106 S1 Rallye in 2018. With the 106 having a host of bolt-on modifications and needing a little TLC, Nick commenced on a meticulous five-year restoration to return it to standard and better-than-new condition, with Coffee & Chrome being amongst its first few outings since completion.
After refurnishing the mechanicals and scouring far and wide for near unobtainable OE parts – the exhaust actually being sourced from France and being the last on the shelf – Nick had the Rallye resprayed inside and out in its original red, the only job that he and his dad didn't complete themselves.
"It's simple to work on and drives really nice," explained Nick, whose son Jacob is also a big fan of the rare S1. "You don't need to go fast either, it feels like you're doing 60 mph when you're doing 30."
Nick's Peugeot was also named our Classic of the Meet at Prescott Hill Climb!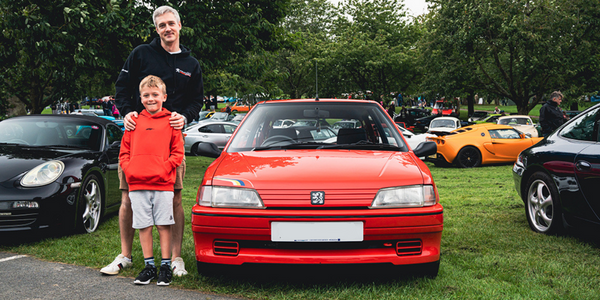 Toyota MR2 (Ferrari 355 replica) - Clive Jonathan
Originally converted in 1998, the Toyota MR2-based Ferrari 355 Berlinetta replica of Clive Jonathan is up there with the best of its kind. It hasn't always been like that though, as when Clive bought it 18 months ago, he admits it was in a "bit of a state"! In his short ownership, Clive's done a great job of bringing the MR2 up to scratch, completely renovating the suspension and brakes, while also repainting it to a level where the underneath is as good as the top.
With the exterior and interior finishes carefully matching those of a genuine Ferrari 355, the MR2 also gives the original a run for its money in terms of performance thanks to a 280 bhp turbocharged 2.0-litre engine.
"It's still a work-in-progress and the engine's due to come out this winter, but it gets loads of attention and I love how people are always taking photos of it." said Clive.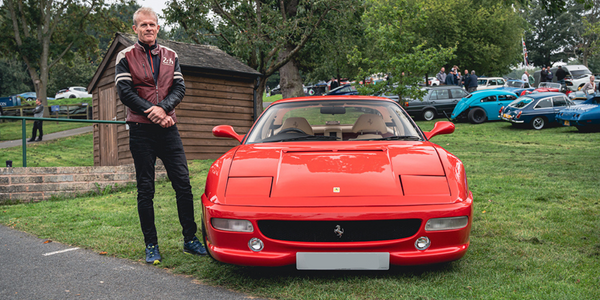 Ford Mustang - Matt Foster
After importing his 1967 Ford Mustang from the 'States three years ago and restoring it with the help of his friends over the following 12 months, Matt Foster has racked up nearly 18,000 miles in the ex-California 'Notchback'. Resprayed in the striking original shade of Burnt Amber, the Mustang has been upgraded to make it the perfect show car and driver, featuring such goodies as uprated brakes and suspension, a fresh interior with a raised headliner for extra headroom and the additions of power steering and a limited slip differential. It also goes better now too, the original, numbers-matching 289 cu.in engine being tweaked to circa 270 bhp thanks to an Edelbrock four-barrel carburettor and freer-flowing headers and exhausts.
"I'm out in it all the time and it doesn't miss a beat, I even daily drove it for a bit," added Matt. "I love the smell and the V8 rumble, you can just get in it and shut off from everything else."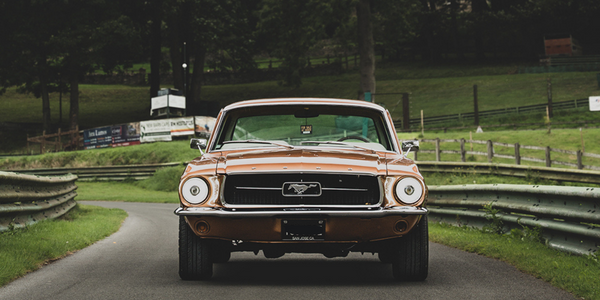 Mk2 Jaguar 340 - Phil Barnes
After fond memories of running a Mk2 Jaguar 240 in the early 1980s, Phil Barnes bought his beautifully restored, show-winning 1968 340 version as a retirement present five years ago. A fantastic illustration of how a quality restoration can last, it's hard to believe that the six-cylinder, 3.4-litre saloon has been on the road for over 30 years since its comprehensive rebuild.
A succession of careful owners, plus the original restoration including a great deal of cadmium plating, saw the Honey Beige-finished Jaguar reach Phil in perfect condition. Aside from regular maintenance, all Phil's done is add the rear spats (hand-built by his father-in-law) and enjoy it!

"It left the factory on my birthday, so I think I was destined to have it." laughed Phil, who was attending his second Coffee & Chrome with the stunning Mk2. "It's glorious to go out in it and it drives so nice. It's great fun to use and people always wave at you."     
Ford Model A ambulance - Richard Brown
A regular sight at Coffee & Chrome, the 1929 Model A ambulance of the Order of St John's is confirmed to be the only one left of its kind and the organisation's oldest ambulance in existence. Cared for by volunteer Richard Brown, it left Ford's Old Trafford factory as a purpose-built ambulance – rather than being a later conversion – and was supplied new to St John's, originally providing service throughout Sidmouth.
Christened 'Sympathy', the Model A later served in London throughout the Second World War, before being eventually decommissioned. Years later it was found on a farm – the body being used as a chicken coup – and rebuilt by a collective of restorers, before returning to the road in 1990. Years later, 'Sympathy' was donated back to the Order of St John's and is now used for fundraising purposes.
"The ambulance has been on everything from phone cards to stamps, and there's even a commemorative diecast model of it" explained Richard. "We've just received a grant to carry out some further work, and it's off in the next few days for paintwork and an engine rebuild."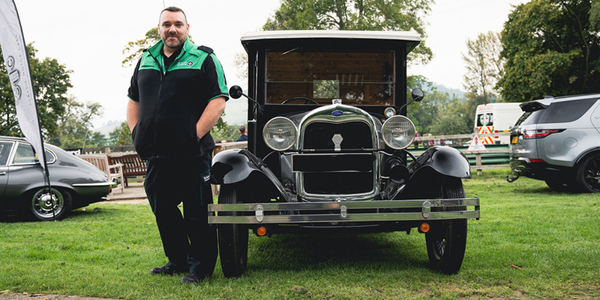 If you'd like to hear more about Coffee & Chrome and be notified of our upcoming meets please sign up to our newsletter!