FJ Coffee & Chrome Impney Estate: June 23 Show Report
On Sunday 11th June, around 1,000 classic cars and bikes descended for one of the finest Coffee & Chrome Collective meetings yet. The event celebrated 40 years of Footman James and, while we lucked out with some particularly balmy weather, we also found one of the most eclectic gatherings of vehicles ever seen at Chateau Impney.
We spoke to the owners of six very different cars to find out more about what makes their classic special – from bouncing Chevys and roof-chopped Beetles to a rather special nineties Nova…
Karl – 1993 Vauxhall Nova GSI
Once the darling of the '90s tuning scene, the Vauxhall Nova GSI is now so thin on the ground that finding a good one has become nigh on impossible. It's a familiar struggle for Karl, owner of this concours example from the final year of production.
"I've had it since 2021 but was looking for the right car for twelve years. I looked at so many sheds before this one turned up in Northern Ireland! I quickly sent over a £100 deposit and flew over to see it in person. Luckily it looked great, so I booked the return ferry and drove it straight home."
Though the Nova was already in tip top condition, Karl has taken it to a whole new level over the last two years – he's even sourced matching etched window glass and original dealership numberplates in the pursuit of perfection. A quick glance under the bonnet confirms this Nova has probably reached the point of being better than original, with the only obvious addition being a set of Speedline Alessio alloys.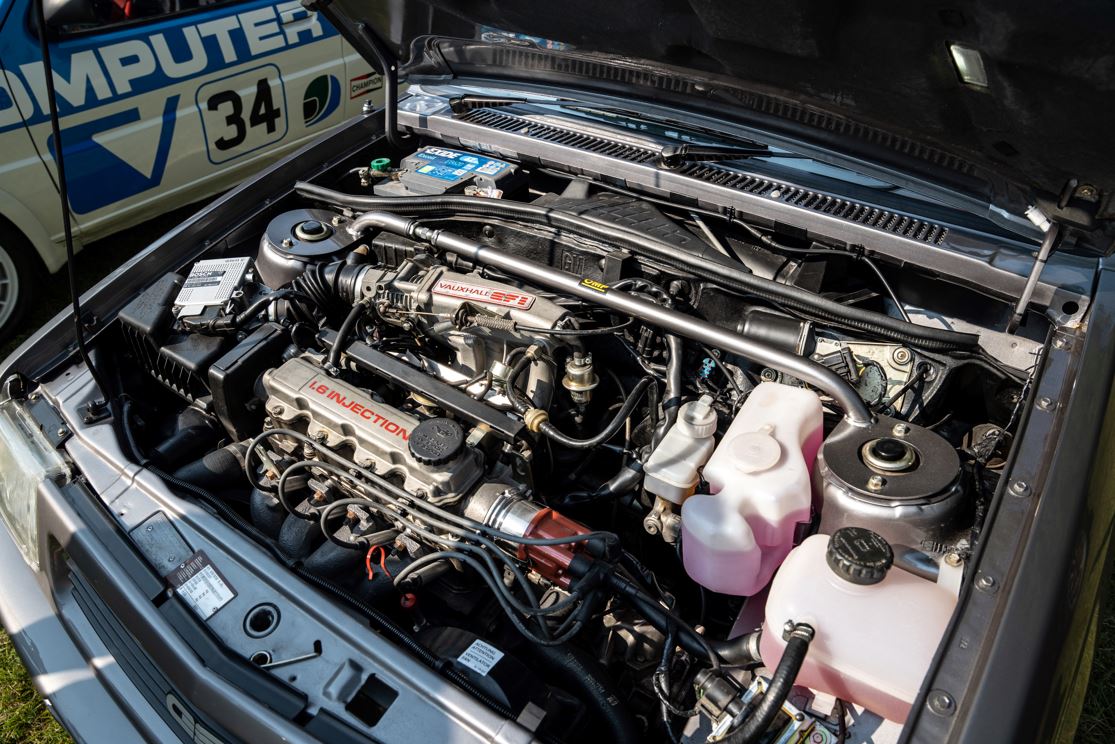 "I think 99% of people would have been happy with the car as it was, but it's basically had brand new everything since I bought it. I've spent about £15,000 in the last two years – I even travelled to Holland with my boy to pick up some really rare parts for it. The windscreen, front bumper and gutter trims are especially hard to find, but it's now one hundred percent complete and missing nothing."
Karl's commitment to the cause has surely resulted in one of the cleanest Novas in the country – predictably, he confirms our suspicion that the car is going nowhere any time soon.
Simon – 1990 Ferrari Testarossa
You never forget your first Ferrari – especially if you follow Simon's lead and go for the full fat, flat-twelve Testarossa. The Pininfarina-penned masterpiece is at the top of the eighties poster car pile, although Simon admits he had his eye on a different Italian supercar back in the day.
"I actually preferred the Countach as a boy, but I think the Testarossa has aged much better," he tells us. "It's not the easiest car to drive, with the dog leg gearbox and lack of power steering, but I've had a great run up from London early this morning."
Driving a classic supercar can sometimes be a case of 'don't meet your heroes', but this is far from the case here – in fact, the car Simon found disappointing to drive was a Mercedes SL 'Pagoda' he had previously.
This Testarossa had spent some time in Japan before being bought privately by Simon three years ago, and now sits alongside a BMW Z3 M Coupe in his collection. Regular work at marque specialist DK Engineering keeps the car in rude health - if you're wondering what the maintenance schedule on a Testarossa looks like, it gets serviced every thousand miles and the engine comes out every five thousand…
The only minor mishap so far appeared on a recent trip across the continent: "I was on my way to Italy but broke down in France - it turned out that the cable to the starter motor had corroded. Apart from that it's been great!"
Sam & Laura – 1971 VW Beetle
The original people's car isn't an unusual sight at your average classic car meet – but Sam and Laura's '71 example is far from your average Beetle.
"We bought it from a guy called Cliff Sealey, who did most of the work beforehand," says Sam. "It's had a five-inch roof chop, a ten-inch beam extension and new floorpans to get rid of any rot underneath. We wanted a Beetle because Laura had one as her first car, but this one's a bit different… it's not exactly comfy!"
If classic cars are about putting a smile on your face, this one is surely hard to beat. The Beetle still gets plenty of use despite the hardcore set up, with Sam and Laura enjoying regular outings at Goodwood House, Shelsley Walsh Hill Climb and the NSRA Royal Rumble. The colour is thought to be Porsche Miami Blue and the only obvious original component is the 1300cc motor – for now at least.
"I'd like to fit a bigger engine; possibly a 1600, or even a 13B rotary from a Mazda. We might also change the seats for something a bit comfier, it has a pair of fixed Corbeau buckets at the moment and they aren't the most practical!"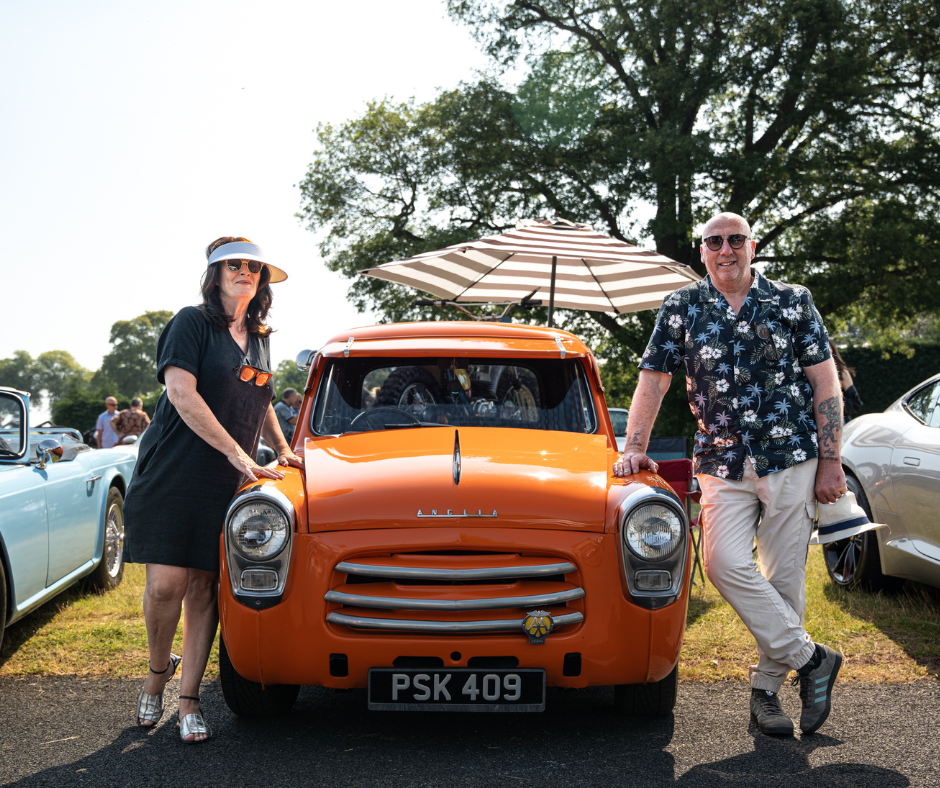 Andy & Jacqui – 1957 Ford Anglia 100E Pickup
A well-executed pickup conversion always attracts attention, often leaving people guessing whether the work had been completed at the factory. Enter Andy and Jacqui's Ford Anglia – a classic Ford you can't really miss, thanks in part to the dazzling Signal Orange paintwork.
"It was already orange when I bought it two and a half years ago," says Andy, "But it now has a 2.1-litre Pinto engine running twin 40s and a five-speed type 9 gearbox – the running gear is essentially the same spec as an Escort RS2000."
You may have also noticed the immaculate Bultaco Pursang motocross bike mounted on the Anglia's pickup bed. Andy tells us he enjoyed a career in competitive motorbike trials, completing two seasons of off-road enduro racing at expert level before retiring in the mid-eighties. The Bultaco is part of a collection of scramblers now kept in the 'man cave' at home, emerging for occasional show outings alongside the Anglia.
Andy and Jacqui are no strangers to a classic Ford, having previously owned a Cortina 1600E and Mk1 Escort RS1600, followed by a seriously punchy two-door Impreza Type R running around 500bhp. Jacqui also brought along her Jaguar F-Type, a desirable modern classic that looked perfectly at home on the Chateau Impney showground.
Dan – 1963 Chevrolet Impala
How many cars does the average person get through in a lifetime? We're not sure on the answer, but we reckon the owner of this classic Chevy is dragging up the mean figure for the rest of the country.
"I've had over 850 cars," Dan laughs, "I've had Skylines, RX7s and Porsches – then there's been at least 25 classic American cars, including a 'fox body' Mustang drag car done in an eighties theme. I bought the Impala in October last year and swapped the air suspension for a hydraulic set up, so it bounces now…"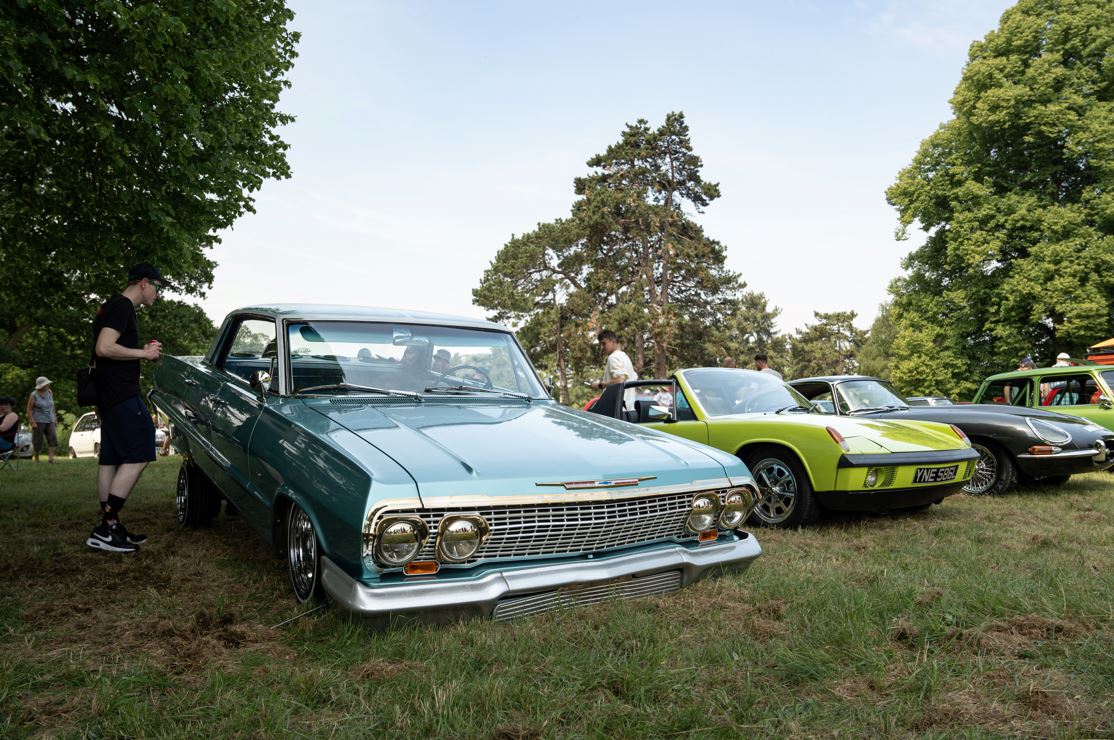 Unusually, this all-American icon has been in the UK most of its life. Dan says the Impala was brought over in 1967 when nearly new by someone in the US military and converted to lowrider specification much later in its life.
As you'd expect from someone with a serious car-buying addiction, Dan couldn't confirm how long he'll be hanging onto his bouncing Impala. He's also got his eye on a 1953 Chevrolet Bel Air, although a hydraulic suspension set up will be non-negotiable on whatever comes next.
Alan – 1958 Austin Healey 'Frogeye' Sprite
Most owners have some level of personal connection to their classic; in the case of Alan's 'Frogeye', it's a car that was designed and developed on his doorstep. The Austin Healey enthusiast is a Warwick local and lives near to where the company was founded in 1945 – he even enjoys the occasional pint at The Cape of Good Hope, the pub where Donald Healey himself used to drink during the company's heyday in the 1950s.
"I've had a pleasant, fast run over here this morning," says Alan. "It goes really well even in standard specification. The sensation of speed is brilliant, at 40mph it feels like you're doing 80!"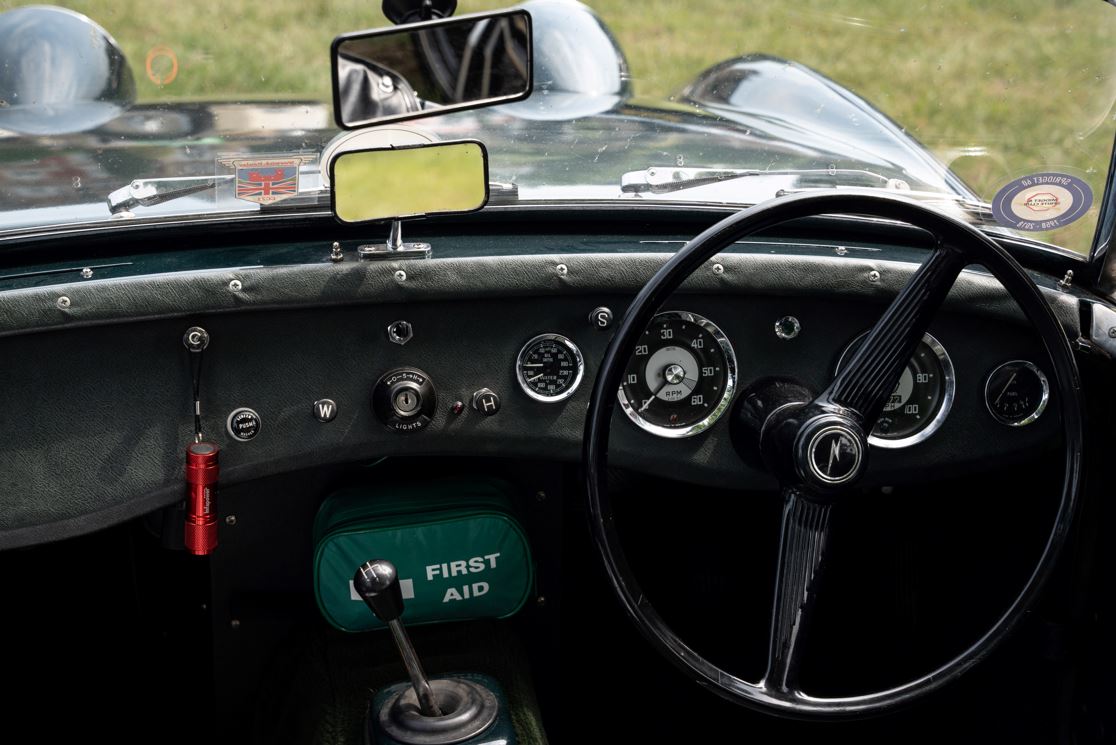 Alan bought his first 'Frogeye' in 2008, acquiring this one from his friend Syd in 2019. Unlike his first, this early 'Frogeye' is mostly as it left the factory, built in the second month of production and recognisable as one of the first batch thanks to its nine-stud windscreen.
"I might upgrade to a bigger engine and disc brakes at some point. The bonnet on a Frogeye is also very heavy, weighing about 120 pounds, so I might also swap that for a fibreglass one in the future."
As someone with such an affinity to the company, it's hard to imagine Alan with anything other than a Healey in the garage – though he also has a tidy 1953 MG TD that you may spot at a Coffee & Chrome event in the near future.
Do you want to come to our next Coffee & Chrome meet at the Impney Estate? Make sure to sign up to our newsletter here to be notified when registrations open on the 12th July for our 6th August meet.