Two stroke motorcycle greats
Two-stroke engines have become a rare sight in modern motorcycles as noise and emissions regulations have squeezed these lightweight, powerful motors to the margins. That doesn't mean you have to do without the zing of a two-stoke motorcycle crackling into life before a ride that demands you pay full attention to revs and gears to get the best from it. 
Many classic bike fans will have started their two-wheeled journeys on two-strokes. From the mopeds of the 1970s to the cheap off-road bikes in the 1980s, these engines have powered millions of motorcycles, and taught plenty of us the wisdom of routine maintenance and care to keep them working for the Monday morning commute to work after a weekend's fun. 
Following on from those learner machines, many of which still hold a place in our hearts, a lot of motorcycle riders will have graduated to more potent two-stroke machines. Among the most desirable of the lot was and still is the Yamaha RD350LC. Nicknamed the Elsie, this arrived in showrooms in 1980 and instantly won fans and plaudits for its performance and handling. The parallel twin engine kicked out 49bhp, which was more than enough in its lightweight frame and gave it a top speed the naughty side of 100mph. Perfect for those essential runs to the chip shop with your mates.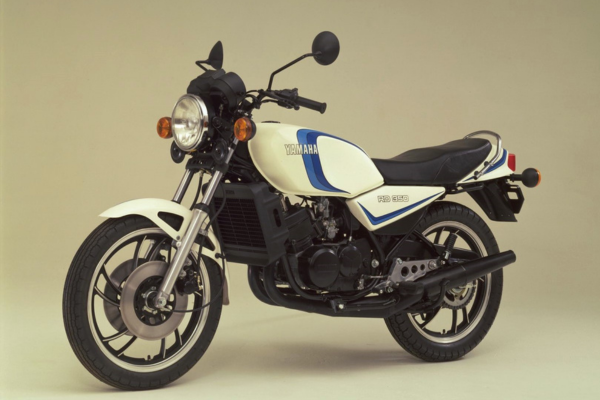 Perhaps just as importantly, the RD350, with its liquid cooled engine (which the LC stood for), was much more reliable than most two-strokes. It could be used on long journeys without the plugs fouling and it managed around 90 miles between fuel stops to be half reasonable for touring. Yet it was the simple looks, performance and handling that made this Yamaha stand out and why it's in huge demand now as a classic bike. 
As the 1980s progressed, two-stroke bikes began to move in more extreme directions. One of these was the lightweight sports bike that aped those on the race track. Kawasaki came up with a gem in the shape of its KR1 in 1988 that looked so delicate yet the 249cc parallel twin engine made a very tasty 55bhp. This also gave the KR1 a top speed of 139mph, making it faster than all of its contemporary rivals and that mattered when it came to car park bragging rights.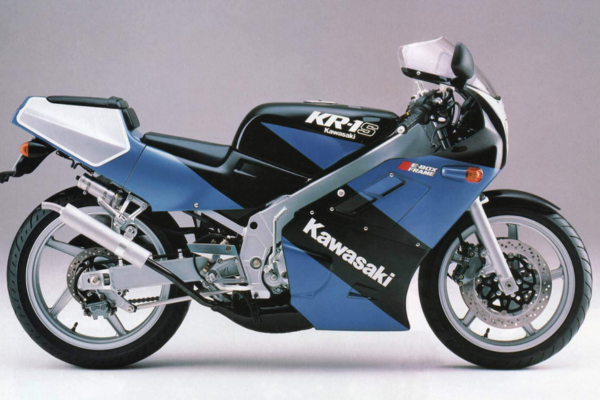 The fact the KR1 looked so good soon became secondary when you rode it hard down twisty lanes. Sublime handling, quick steering, and immediate responses were all hallmarks of this bike and the subsequent KR1-S with its 65bhp engine offered even more of the same. It makes this Kawasaki a prime two-stroke to own now as it remains a hugely quick, entertaining bike so long as you keep that motor on the boil.
Suzuki's answer to the Kawasaki KR1 was the RGV250 and it's a wonderful bike. However, the RGV donated its engine to the even more breathtaking Aprilia RS250. The stunning looks of the RS250 would be enough for many to add one to their collections, while race history with Valentino Rossi, Max Biaggi and Loris Capirossi adds to its allure. However, it's only when you ride one that you fully understand this bike's hold over so many owners. 
The idea of a race bike for the road is touted by many manufacturers, but Aprilia got closer than most with the RS250. You have to work the engine hard and commit to corners to maintain momentum, but when you do ride it as intended it is otherworldly. Few sports bikes can stay with a well ridden RS250 and knowing you can do this with a mere 250cc motor makes it all the more special. It makes the Aprilia a must-have for many collectors. 
Another cornerstone of many two-stroke collections will be the Suzuki RG500. Launched in 1985 before litre bikes became the default capacity of the fastest road bikes, the RG500 Gamma offered mortals the chance to feel like Kenny Roberts or Barry Sheene with a screaming four-cylinder two-stroke motor nestled in the Suzuki's aluminium frame. Unlike many other sports bikes of the time, the RG had the speed and handling to match the promise of its looks. 
Suzuki only built the RG500 Gamma between 1985 and 1987, so rarity plays a big part in its appeal in the classic market today. Set aside its collectability and unicorn status, though, and this is a magnificent slice of 1980s sports bike pleasure as it makes you feel like you're on the grid next to your racing heroes. 
If you'd rather be off-road than on-track, there are plenty of two-stroke options to choose from, but none comes close to the performance or fearsome reputation of the Honda CR500. Introduced in 1984 with a thumping single-cylinder 491cc engine, it offered 60bhp and the sort of pace to terrify even experienced riders. None of that stopped it winning multiple motocross titles and becoming a legend in its lifetime as the most powerful bike in its class. 
For those not looking for as wild a ride as the CR500, Yamaha came up with its TDR250 in 1988. Using a retuned 249cc parallel twin engine from the TZR250, the TDR was a brilliant do it all bike in the same mould as the BMW GS, albeit with a much small engine and keener handling. Not as popular in the period when it was new between 1988 and 1993, the TDR is now in big demand as a very usable, versatile modern two-stroke classic bike. Bag a good one and you'll soon be zipping through its five-speed gearbox while lining up the next corner as you look over hedgerows. 
All of the above bikes come from Japan, but the UK made plenty of two-strokes and the perfect introduction is the BSA Bantam. There are still loads around at affordable prices, so you can find out what all the fun it about with this simple to maintain and ride classic that lasted from 1948 all the way to 1971. Crucially, you'll have a great time learning about two-strokes and how to get the best from them every time you crank up their ring-ding-ding engines.  
What do you think about two stroke motorcycles? Let us know in the comments!